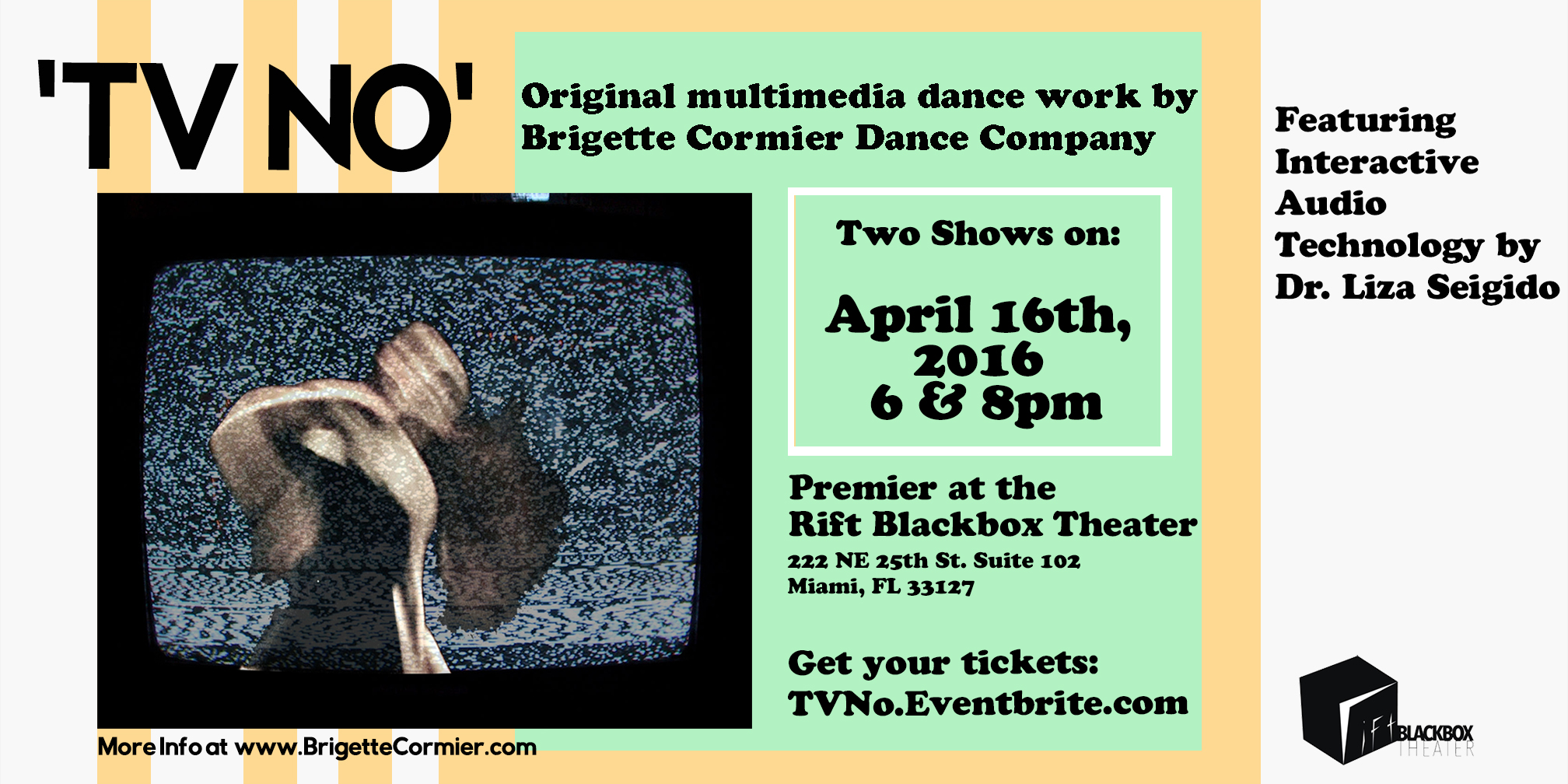 Click here to Download Press Release
Click here to Download Media Packet
Click here for Facebook Event Invite
Press Release and Calendar Listing
FOR IMMEDIATE RELEASE Januray 1st, 2016
Contact:  Brigette Cormier
Email:   contact@brigettecormier.com
Brigette Cormier Dance Company Premiers New Multimedia Dancework 'TV NO' in Miami April 2016
MIAMI, FL – On April 16th, 2016 Brigette Cormier Dance Company (BC Dance Co.) premiers a new dance work, "TV NO" in collaboration with multimedia artist, composer, and vocalist Liza Seigido. "TV NO" is a multi sensory, multimedia dance performance choreographed and created by Brigette Cormier, founder of BC Dance Co.
The making of "TV NO":
Dr. Liza Seigido created a custom pressure sensitive sound sensor system responsive to the dancers' movements. It redefines audio technology with an interactive dance floor audio system, turning dancer into musical instrument. This technology utilizes custom built piezzo electric pressure sensors and Seigido's custom built software to create this multi sensory, multimedia performance experience.
BC Dance Co. was founded in 2011 and currently consists of New World School of the Arts (NWSA) college dance alumni Amanda Edwards, Jessie Birt, and Brigette Cormier. The "TV NO" premier is located at the Rift Blackbox Theater in Wynwood, Miami at 222 NE 25th St. Suite 102, 33137. There are two performances on Saturday, April 16th one at 6pm and the second at 8pm. Tickets can be purchased for $20 at "tvno.eventbrite.com"
There is a fundraising event on Sunday, February 7th, 2016 at 3pm at the Rift Blackbox Theater. This event includes a screening of behind the scenes footage of "TV NO" and a free dance workshop with Brigette Cormier. It's also a great opportunity to buy tickets for the "TV NO" premier.
About the artists:
Dr. Liza Seigido is a Miami-based composer, multimedia artist, vocalist, and educator. She and her husband, Dr. Lawrence Moore, are the founding directors of "Kendall Sound Art–" a new music concert series hosted in West Kendall Regional Library. In January 2015 Seigido was awarded the Jennylin Duany Light Bulb Fund Honorary Award by the Miami Light Project, which served to fund the development of her latest work, entitled "Daphne". Dr. Seigido is currently teaching at Miami International University of Art and Design, Miami Dade College, and at the Superior Academy of Music. Her music has been performed across the United States and in Prague, Czech Republic.
Brigette Cormier is a choreographer and dance educator in Miami, FL. She received her BFA in dance from the University of Florida and NWSA in 2011, and has trained with the Martha Graham Dance Company and the Jose Limon Dance Company. She began dancing professionally in 2008, with dance companies such as Brigid Baker's WholeProject and the Peter London Global Dance Company. Brigette is currently a resident choreographer at the Rift Blackbox Theater, where she premiered her full length work "Joan: the Ballet" in November 2014. A resident ballet teaching artist with Arts for Learning, Brigette is also a member of the dance faculty at PAN and Miami Dance Studio. Brigette is a Dance USA 2015 Scholarship recipient and has recently been commissioned by Florida Dance Teachers Association to perform her work in the Daniel Lewis Miami Dance Sampler, by Pioneer Winter Collective, MiamiArtZine, and by Heroes Unite for MMT. As well, she has recently collaborated in showing work in Crystal Peattie's The Haunted Ballet and Dr. Liza Seigido's Kendall Sound Art. For more info visit BC Dance Co. websites www.BrigetteCormier.com and www.facebook.com/BrigetteCormier

For Calendar Listing
Who:          BC Dance Co. – Brigette Cormier Dance Company –  A Miami-Based grassroots dance company
What:         Premier of "TV NO" a multimedia dance work
When:         April 16th, at 6pm & 8pm (two shows)
Where:       The RIFT Blackbox Theater, 222 NE 25th St. Suite 102 Miami, FL 33137
Contact:     Founder Brigette Cormier, contact@brigettecormier.com
Tickets:      $20 Admission tickets sold at http://tvno.eventbrite.com